The big picture
Operations
Sampling
Garment samples are inevitably important and are developed tested before starting the bulk production. It means making a sample of the garment /fabric which requires to be sold.
Designing
Fashion design is the art of applying design, aesthetics, clothing construction and natural beauty to clothing and its accessories. It is influenced by cultural and social attitudes, and has varied over time and place.
Tracing
The modern garment supply chain is immensely complex and conventional "Made In" labels offer a dangerously simplified truth. Instead, we trace every step of our garments' creation, from farm to finish line.
Embroidery
Embroidery is the craft of decorating fabric or other materials using a needle to apply thread or yarn. Embroidery may also incorporate other materials such as pearls, beads, quills, and sequins.
Sewing
Sewing is the craft of fastening or attaching objects using stitches made with a needle and thread. Sewing is one of the oldest of the textile arts, arising in the Paleolithic era.
Finishing & Dry Cleaning
Finishing & Dry cleaning still involves liquid but is so named because the term 'wet' is specific to water; clothes are instead soaked in a water-free liquid solvent.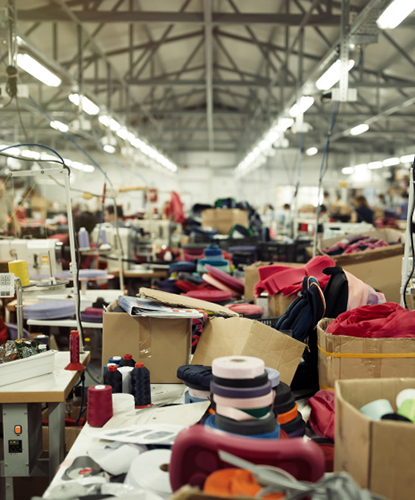 Super easy
Operations includes
Operations includes :- sampling, designing, tracing, embroidery, sewing, finishing & dry cleaning.
All production facilities are available with in premises including bulk production of hand embroidery.
All garments are produced under strict quality control.
All garments are inspected on dummy to ensure proper fit by Quality Control Department.
Inspection starts with initial level fabric and trims through in-line embellished work and make–up process, up to final audit done by independent inspectors within the factory.
All of today's necessary compliance requirements are observed to meet international standards for country of origin and code of conduct.